Company Profile
Management Systems & Certification
Fully insured
Fully qualified
Pre-approved by the ACT government
RMS accredited
Sapphire Coast Tree Service & Tower Hire has achieved a strong reputation for vegetation management and clearance services having gained extensive experience in our 22 years of operation. Our services include tree surgery, tree removal, stump grinding, roadside clearing, and vegetation management together with wood chipping and forestry mulching. We meet the stringent technical safety and environmental criteria required to perform these important and high-risk vegetation control services.
Sapphire Coast Tree Service & Tower Hire Pty Ltd achieved certification of our practical Quality Management System AS/NZS ISO 9001:2008 in October 2008 together with 2nd party certification of our WHS and Environmental Management Systems. This has provided greater confidence to our clients and ensures planned arrangements and consistent outcomes in all of our operations. We are also accredited by the Tree Contractors Association of Australia NSW as qualified tree management professionals.
Download Company Profile 2018

Resources
Sapphire Coast Tree Service & Tower Hire has sufficient technical resources to complete any tree work, the most important of which is our skilled team of direct workers, that we have available for all vegetation control work. Our entire workforce attends all internal and external training courses required for their respective tasks. Further, they have attained all relevant certificates and been verified by Sapphire Coast Tree Service & Tower Hire Management as being competent for the works, before being assigned any tasks. The commitment we give towards the continual skilling and development of our workforce is considered a significant strength of our company. Each of our workers demonstrates commitment and integrity in their work. We are very proud that we have attracted many long-term employees with over 10 years of service with the company. Our low staff turnover is another key indicator of a successful company.
Plant and equipment
Our modern, well-maintained EWP and towers together with wood chippers, trucks, and other equipment complete with our highly skilled and motivated workforce enables us to perform each task efficiently, safely and in an environmentally responsible manner. All of our fleet of plant and vehicles is fully owned and operated by Sapphire Coast Tree Service & Tower Hire. All towers meet electrical line clearing safety requirements and regular inspections are carried our by Workcover. Elevated Work Platforms comply with all legislation and standards including, RMS (RTA), Workcover, EPAAs2550.10.1994, AS1418.10.1996 and EC11 as well as complying with ISSC25. Testing is regularly carried out to meet all government and OH&S requirements. All equipment is registered in NSW/ACT, all equipment is less than 5 years old, all equipment can be viewed/inspected on request.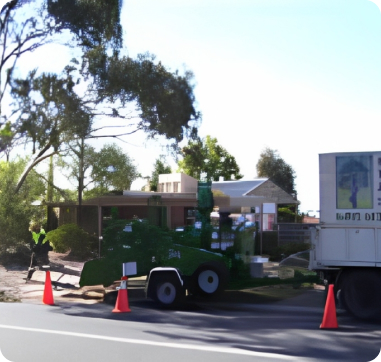 Workplace Health, Safety & Rehabilitation Policy
The safety of our workforce (extending to our subcontractors), the public, and property is of paramount importance. Our efforts are focused to ensure all of our employees are fully committed to this goal and this in turn is the approach they foster in others. We plan and monitor our stated objectives. We take a proactive approach and provide adequate resources to ensure that safe working areas, safe plants, and safe systems of work together with safe material handling procedures complete with personal protective equipment practices are established and implemented at each workplace in accordance with AS 4801 standards. Sapphire Coast Tree Service & Tower Hire will provide adequate health and safety support and training to both our management staff and our workforce employees. Works will be undertaken with the minimum risk to health and safety by providing adequate information, instruction, training, planning, and supervision to employees in safe and healthy methods of work. Responsibilities for managers, supervisors, subcontractors, and employees will be defined and communicated completely with authorities to meet these responsibilities. We shall monitor the overall effectiveness and accountability of each stakeholder. Sapphire Coast Tree Service & Tower Hire requires all members of the workforce including sub-contractor employees take reasonable care of their health and safety and that of other workers in the workplace and comply with the company health and safety requirements, ensuring conformance with legislative requirements and current industry standards. We are committed to regular consultations and cooperation on WHS & R with the workforce on proposed changes to the workplace and to gain ideas as to how best realise improvements.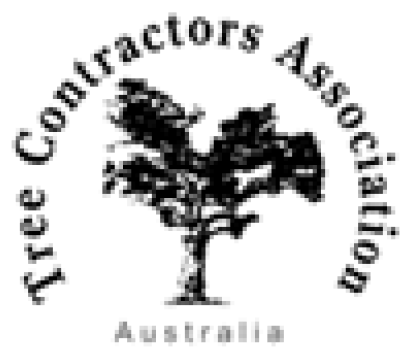 Quality Policy
Sapphire Coast Tree Service & Tower Hire as a fully Accredited Clearing and Tree Surgeon Contractor takes pride in providing professional services together with supplementary services of stump removal, wood chipper, a tip truck, and tower hire. Through exceptional customer service and meeting our client's specific needs, our goal is to become market leaders in our field and continue to grow our business based on a solid industry reputation. To realise the above objective and satisfy our client expectations, Sapphire Coast Tree Service & Tower Hire is committed to implementing and maintaining our Quality Management System on AS/NZS ISO 9001:2008. Our Management System applies to every project performed and extends to all company operations. Clients enjoy complete confidence in a successful outcome once we are engaged in their project delivery. We recognise the importance of providing our workforce with the appropriate training necessary to perform their work and ensure each team member fully understands their responsibilities and authorities in meeting the customer's requirements. When engaged in our client's projects, we exercise safety, care, and skill to produce consistent results of an exceptionally high standard. The successful operation of our system relies upon the cooperation and involvement of our workforce at all levels. Our customer focus together with our unparalleled commitment to quality and safety will ensure the continued success of Sapphire Coast Tree Service & Tower Hire and the total satisfaction of our clients. We are proud of our people and through them the special, customer-focused service we provide for our clients.
Environmental Protection Policy
Sapphire Coast Tree Service & Tower Hire has a commitment to protecting the environment through implementing our management system in compliance with AS/NZS ISO 9001:2008. Our company carefully plans each of our company operations including all projects activities so as to minimise the potential for impact on the environment. We plan and monitor against our stated objectives. Our processes have been analysed and risks and hazards are assessed for each of our projects. Appropriate training and resources are provided to our workforce to ensure these policies and procedures are effectively implemented and that adequate controls and measures are taken. To this end, special attention is afforded to client and authority requirements complete with precautions we afford to ensure appropriate measures are placed within and outside of our immediate project site area, to safeguard against our construction and tree surgery activities. These controls and measures extend to our subcontractors and suppliers. Emergency procedures are predetermined in accordance with the environmental risks and hazards identified. Waste is minimised and disposed of in an approved manner for each project. Sapphire Coast Tree Service & Tower Hire takes pride in pursuing the highest standards in respect of meeting our environmental obligations.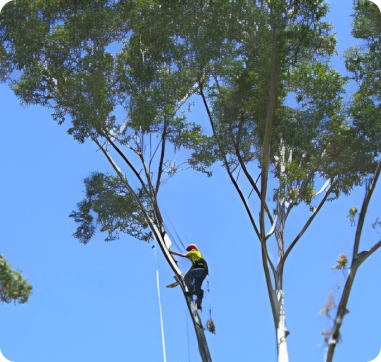 Tree clearance services
Covering the southeast region from Goulburn to the Victorian border and ACT. Free quotes in all areas.
Online Enquiry & Free Quote